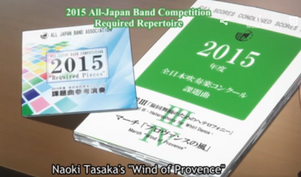 Provence no Kaze, or Required Piece No. 4, is a piece of wind band repetoire that was required on the program for every high school band in Japan competing in the All-Japan Band Competition of 2015. It is the fourth of several required pieces used as standard measures of ensembles in band competitions, and was composed by Naoki Tasaka.
The official list of the required piece for the All Japan Band Competition 2015 is as follows: 
I Yutarou Ishihara (

石原勇太郎

): Pilgrimage - Ballade for wind orchestra (

天空の旅 -吹奏楽のための譚詩-

)
II Kunihiro Sato (

佐藤邦宏

): Walk down the Spring Path March (

マーチ「春の道を歩こう」

)
III Akira Nishimura (

西村朗

): Higi III - Heterophony for Whirl Dance (

秘儀III -旋回舞踊のためのヘテロフォニー

): Appears in the anime.
IV Naoki Tasaka (

田坂直樹

): March "Wind of Provence" (

マーチ「プロヴァンスの風」

): Kitauji's selected piece, some strophes can be heard during the anime episode.
V Soo-Hyun Park (

朴守賢

): The Scintillating Dawn (

暁闇の宴

)
Provence no Kaze is the real piece that was required for the real 2015 competition, and since the anime adaption of Sound! Euphonium was released following the timeline of the real-time competition, the band was shown performing the same piece that hundreds of other high school bands in Japan were rehearsing in real life.
Ad blocker interference detected!
Wikia is a free-to-use site that makes money from advertising. We have a modified experience for viewers using ad blockers

Wikia is not accessible if you've made further modifications. Remove the custom ad blocker rule(s) and the page will load as expected.