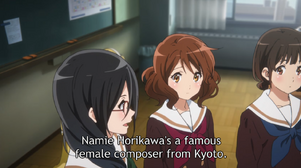 Namie Horikawa (堀川奈美恵) is a fictional young female Japanese composer based in Kyoto, gaining fame and recognition for her emerging talents in wind ensemble composition. She is the composer of Crescent Moon Dance, which Noboru Taki selects as the competition free-choice piece for the Kitauji Concert Band.
In the anime, it is mentioned that Namie was inspired by the night sky that she loved gazing at as a child. She drew on this inspiration while composing Crescent Moon Dance. According to Asuka Tanaka, Namie's melodies and motifs are "subtle" in nature.
Ad blocker interference detected!
Wikia is a free-to-use site that makes money from advertising. We have a modified experience for viewers using ad blockers

Wikia is not accessible if you've made further modifications. Remove the custom ad blocker rule(s) and the page will load as expected.