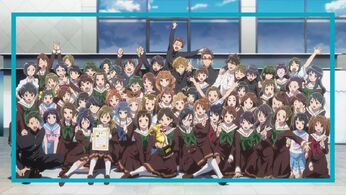 The following is a comprehensive list of characters from the Hibike! Euphonium anime, manga, and light novels.
Kitauji High School Concert Band Students
The students in the
Kitauji Concert Band
are listed here by section in
score order
.
Yoriko Souga- Designated Piccolo
Kotoko Himegami- Principal Flute, Flute Section Leader
Tsubomi Nakano- Co-Principal Flute
Kyouko Mihara
Tsune Watanabe
Shirabe Inoue
Sari Takahashi
Meiko Oda
Nozomi Kasaki- Quit the band before start of series, but later rejoined in Season 2
Maina Kase- Designated E♭ Clarinet
Hirone Torizuka- Principal B♭ Clarinet / Concertmistress, Clarinet Section Leader
Hisae Takano
Hiyoko Ueda
Youko Matsuzaki
Sugami Tanaka
Sakiko Suzuka
Shouko Hagiwara
Rie Shima
Chieri Takahisa
Yumina Ouguchi
Hitoshi Usui- Principal Bass Clarinet
Junko Koshigawa- Bass Clarinet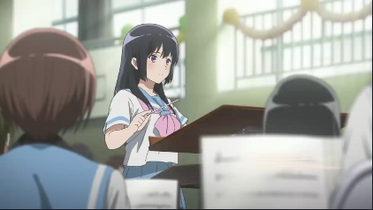 Juri Sawada- Principal Horn, Horn Section Leader
Miru Kishibe
Hiro Kahashi
Lala Hitomi
Michiyo Morimoto
Hideri Noguchi- Principal Trombone, Trombone Section Leader
Sayaka Fukui
Maki Akamatsu
Mei Taura
Keina Iwata
Narai Tanabe- Principal Percussion, Percussion Section Leader
Tsubame Kamaya
Other Characters
Gallery
Ad blocker interference detected!
Wikia is a free-to-use site that makes money from advertising. We have a modified experience for viewers using ad blockers

Wikia is not accessible if you've made further modifications. Remove the custom ad blocker rule(s) and the page will load as expected.